The Canary Islands archipelago consists of 8 different islands which have something in common: all of them have a unique natural beauty which makes them a paradise of locations for audio-visual production companies around the world. In this post we are sharing with you 8 locations, one from each island, that will help you learn a bit of the insights of the most incredible natural places to film in the Canary Islands.
Teide, Tenerife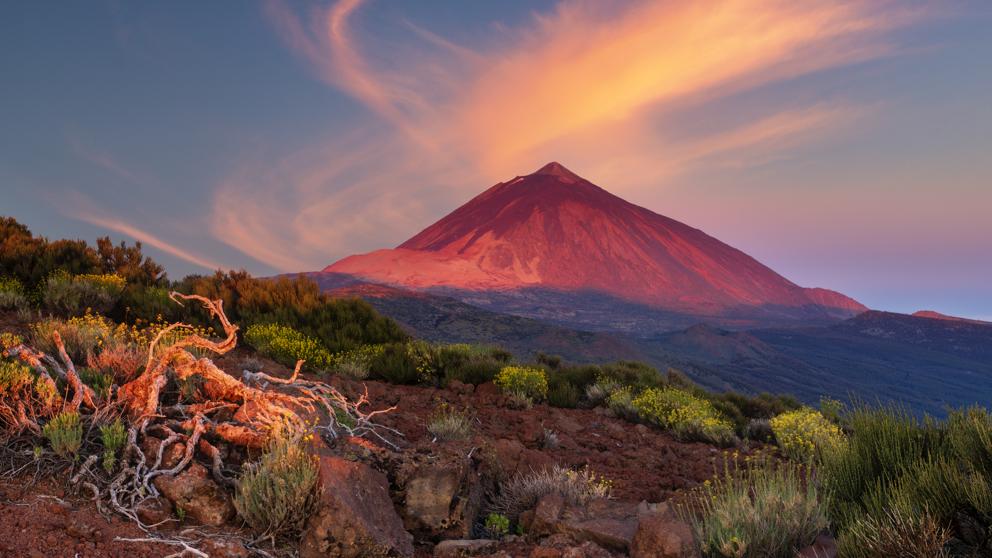 Teide is the highest peak of Spain. An impressive volcano lies 3.718 meters beneath the island and it is known by the name of "The Archipelago's roof". Teide National Park has been declared intangible cultural heritage by UNESCO and it is one of the most requested places for audio-visual shootings in the Canary Islands. It has been a scenario in Hollywood blockbusters such as Wrath of the Titans or Rambo: Last Blood.
Dunes of Maspalomas, Gran Canaria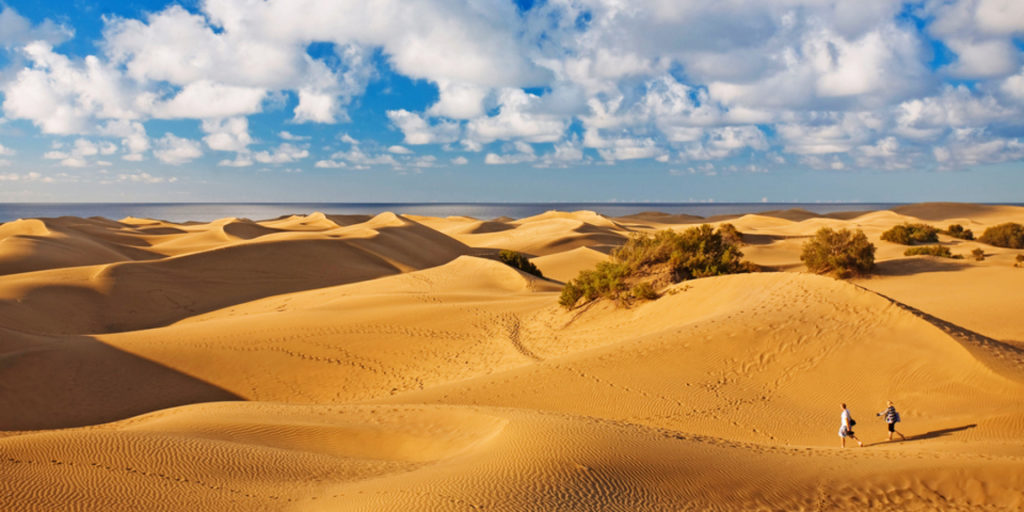 No, it is not the Sahara Desert, but it looks like it. This dune system is unique in the world and it is considered Special Nature Reserve. Among its 400 hectares there is a magnificent beach, a field of natural sand dunes and an oasis at the coast… Also, this location is well connected to the area of commerce and hotels. Filming in the dunes of Maspalomas will allow you to set your scenes in an arid African desert with Canary Islands tax incentives and European conditions.
Timanfaya, Lanzarote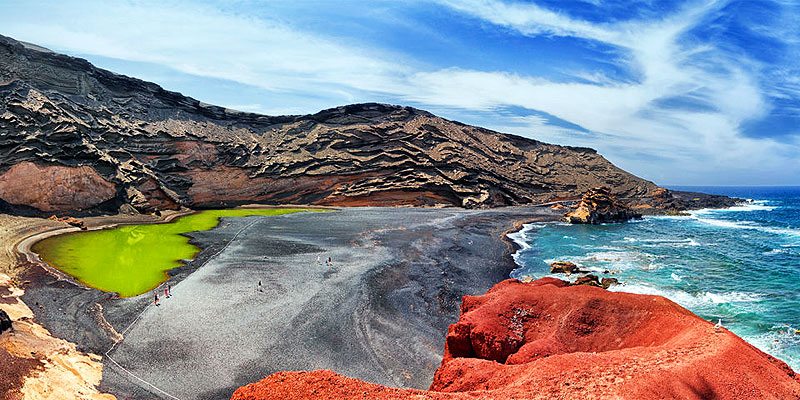 Timanfaya National Park is a volcanic scenario which makes you feel like you are in the fiery insides of the Earth in each photography, however, we would like to highlight now "Charco de los Clicos". This green lake is situated inside the great crater next to the ocean and located at El Golfo. It has been formed by the very marine flora in the water, which gives it that characteristic shinny color. 
An impressive volcanic landscape, black sand, red cliffs, the blue sky, and the sea… What could you do in a place like this?
Garajonay, La Gomera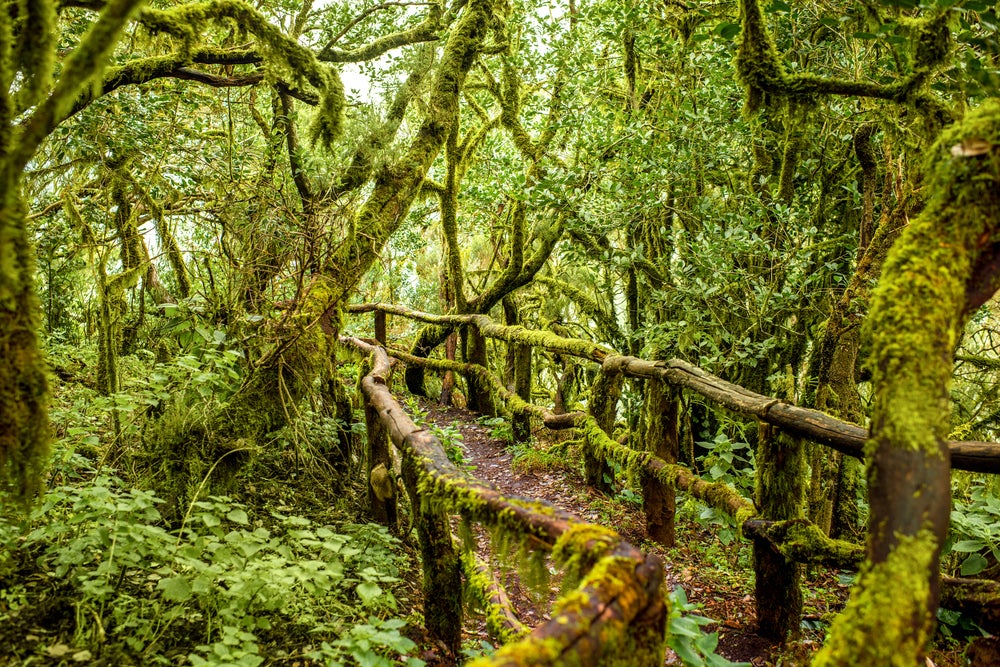 If you thought the Canary Islands were just arid and desert islands, you will change your mind once you see the island of La Gomera. Garajonay National Park occupies nearly the whole island and it is made of a dense jungle formed by different vegetable species, surrounded by a sea of clouds which gives the forest that magic touch. All these characteristics make Garajonay the perfect space to set your fiction and fantasy storylines.
El Sabinar, El Hierro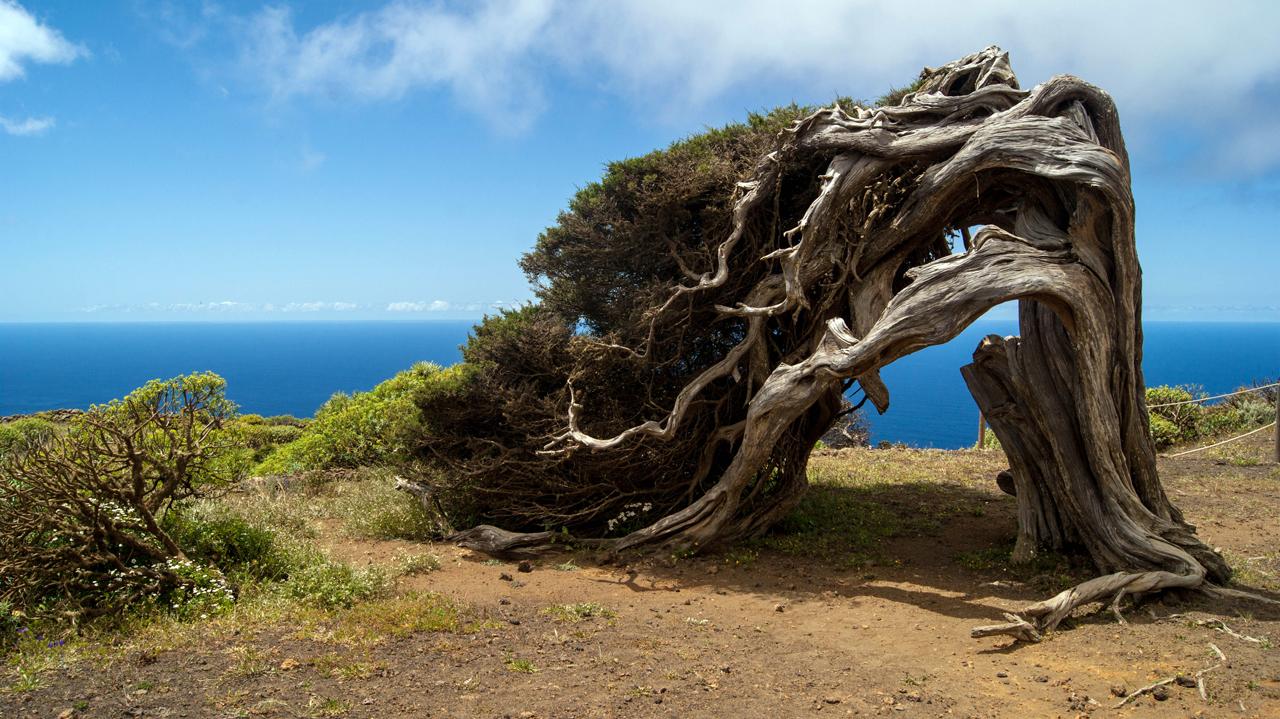 El Hierro is an island which has been declared a biosphere reserve, that is why, despite of being a small territory, it contains a great amount of natural wonders. One of them is El Sabinar, a space which has ancient pieces of Juniper tree in twisted shapes because of the wind. These trees are 8 meters tall and are considered the oldest trees in Spain according to the experts.
Roque de Los Muchachos, La Palma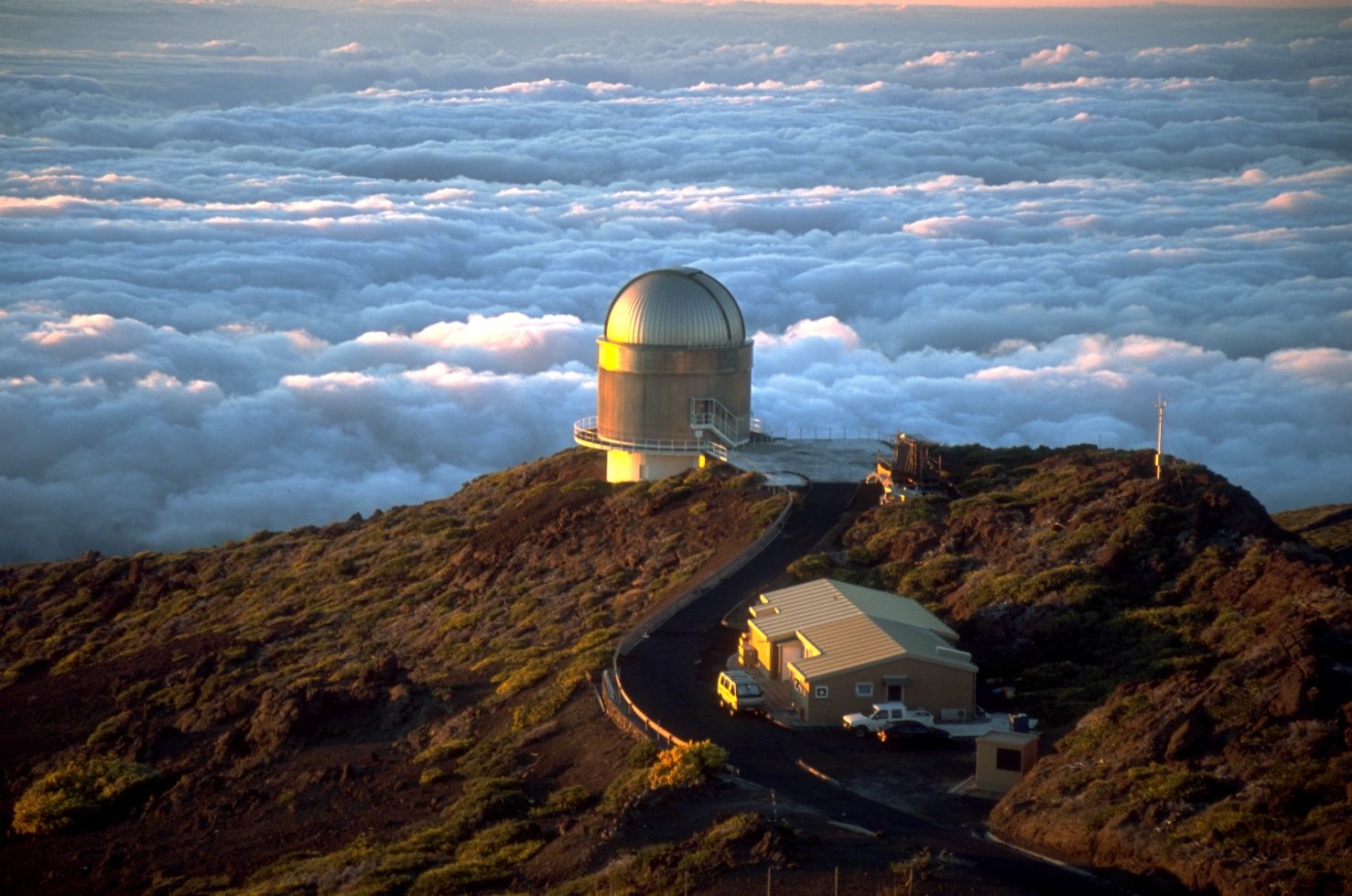 Roque de Los Muchachos is the highest peak in La Palma, located 2.426 meters above the sea level. From this place you can see the clearest skies in the Canary Islands, that is why it was the prestigious Astrophysics Observatory of the same name, one of the most complex telescopes in the whole world. 
Also, from this infrastructure with a futurist touch we can highlight the natural beauty of this space, especially when the laburnum and gorse flourish, covering everything with a white and yellow tone that contrasts with the sea of clouds.
Jandía, Fuerteventura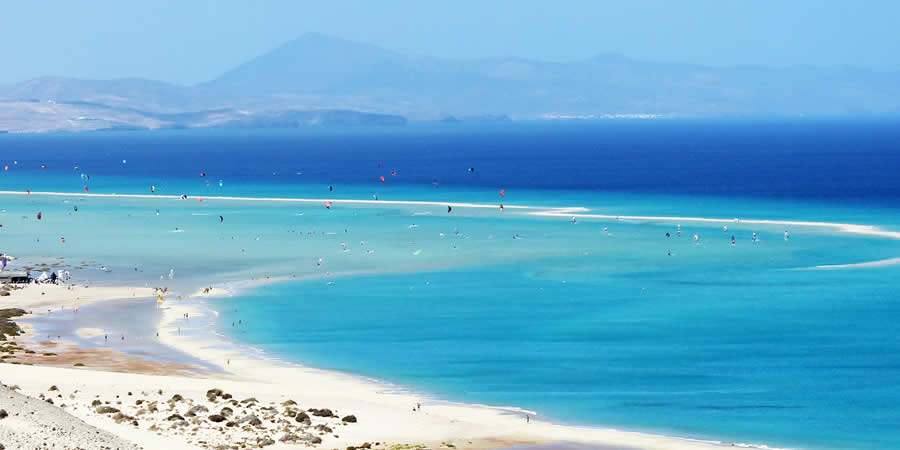 Some of the longest beaches in Spain are in Fuerteventura, and in the South of the island, the Jandía Peninsula considered by many the Sotavento Beach, will transport you to the Caribbean. 
Like we said, this beach is situated in Jandia Natural Part. A protected area since 1987 and an authentic natural ecologic reserve due to its desert areas, beaches, sandbanks, and lagoons. In sum, a heavenly place with many sun hours where you can place any filming set.
Caleta del Sebo, La Graciosa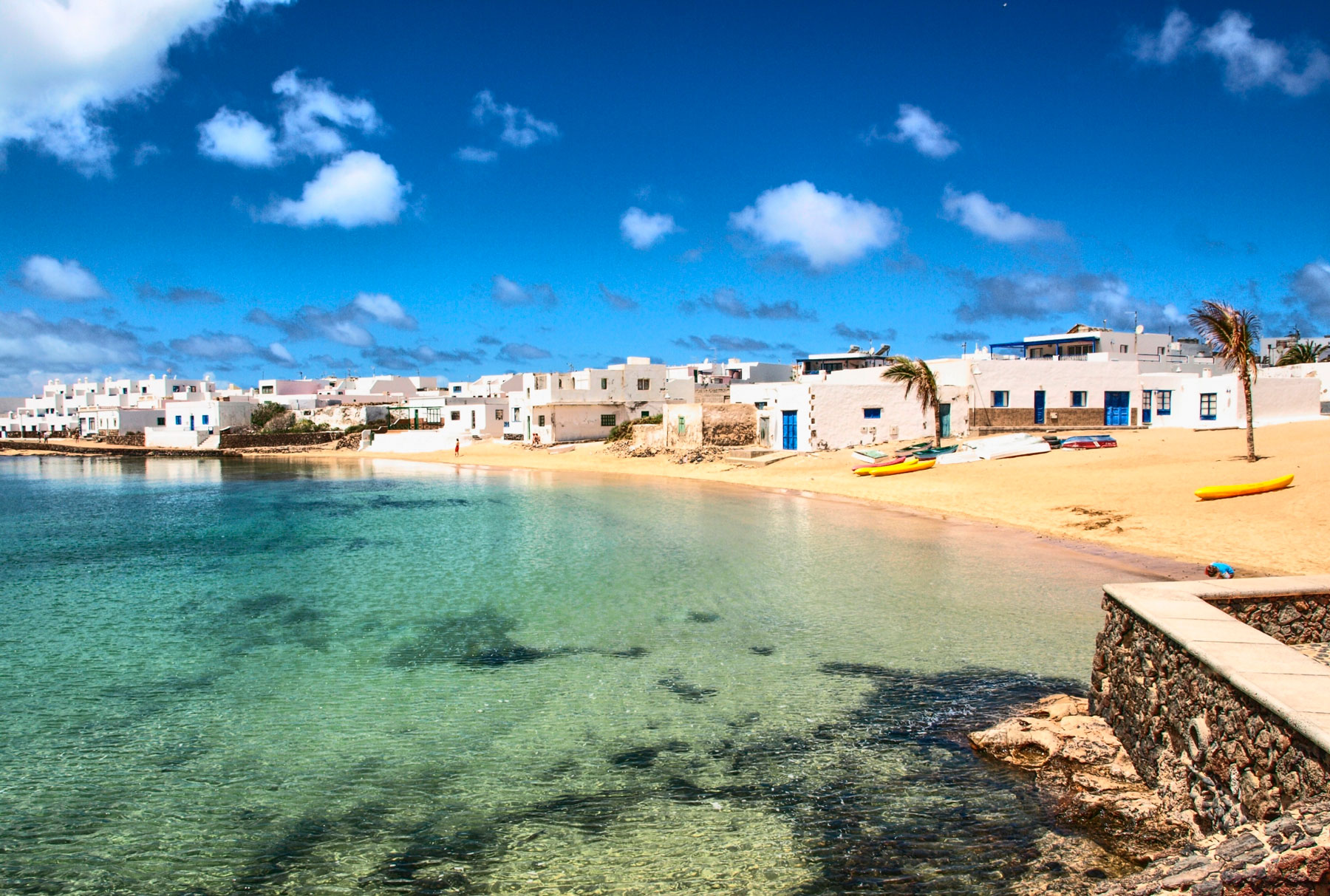 La Graciosa is the smallest of the Canary Islands. All of it is a wild and idyllic landscape. Also, it is one of the few places in Europe where the streets are not paved. The main village is Caleta del Sebo, a picturesque village with white houses and streets filled with thin sand and surrounded by virgin beaches. Of course, a quiet and heavenly place to start your audio-visual shooting without having to leave Europe.
These are just a few examples of the hundreds of locations which are completely different from each other and separated by just a few kilometers. These make the Canary Islands a unique and versatile filming set which has been crowned as one of the favorite destinations for Hollywood production companies for the past few years. 
If you want to know more incredible natural places to film in the Canary Islands Archipelago, contact us at Las Hormigas Negras. We will guide you into knowing every corner!